Fresh Air Labor Day sale
Dear Customer , Rainbow is pleased to inform our Labor Day Rainbow Fresh air sale, just for 1 week. From 8-29 to 9-05. NOTE: add code dnalaborday16 on checkout!
Estimado Cliente, Rainbow se complace en informarles de nuestro especial del dia del trabajo en los Estados Unidos, solo por 1 semana. NOTA: añadir el codigo dnalaborday16 en el carrito!
15% Off Rainbow Fresh air sale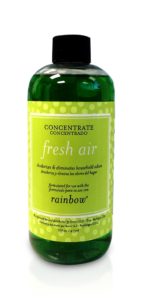 The Rainbow concentrated fresh air (disinfectant) 16 fl oz / 473 ml big bottle. Perfect to eliminate bacterias or virus in your indoor air and get rid of strong odors. This is an original Rainbow Product made in USA. Use only one or two caps into the Rainbow water basin or your Rainmate.
Esta es la botella grande de 16 fl oz / 473 ml, El Rainbow Fresh Air es perfecto para desinfectar y matar virus o bacterias del aire de su casa, así como también elimina olores fuertes. Este es un producto hecho en USA por Rainbow, por ser concentrado solo necesita echar 1 o 2 tapas llenas en su Rainbow o Rainmate.