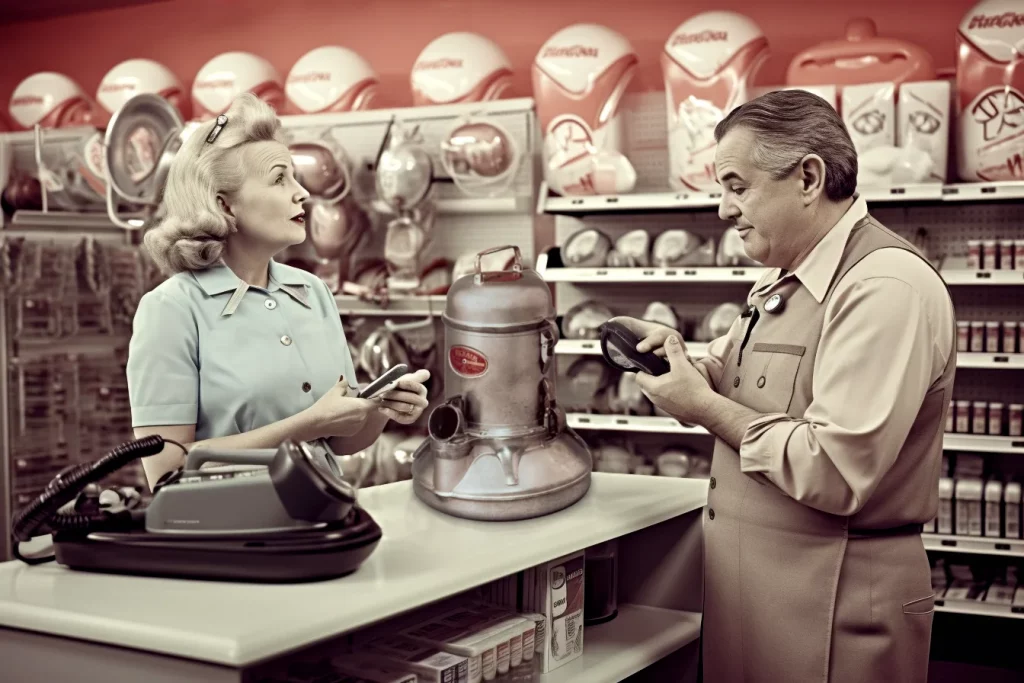 For How many years has my Rainbow Vacuum been under warranty?
At Rexair, we provide a written warranty for a period of four (4) years on the Rainbow Cleaning System and included accessories exclusively to our Authorized Independent Rainbow Distributors. Additionally, we offer an eight (8) year warranty on the motor/electronic controller. Replaced parts may be new or refurbished, at Rexair's sole discretion. These warranties do not cover normal wear and tear resulting from product use.
While Rexair, as the manufacturer, does not directly engage with customers or provide them with a written warranty, the law imposes certain responsibilities on all manufacturers of consumer products. Products must be free from defects and made to conform to their intended use. Rexair upholds these implied warranties of merchantability and fitness for purpose. Furthermore, Rexair requires each Authorized Distributor to pass on the benefit of Rexair's warranty to the consumer through their own written warranty.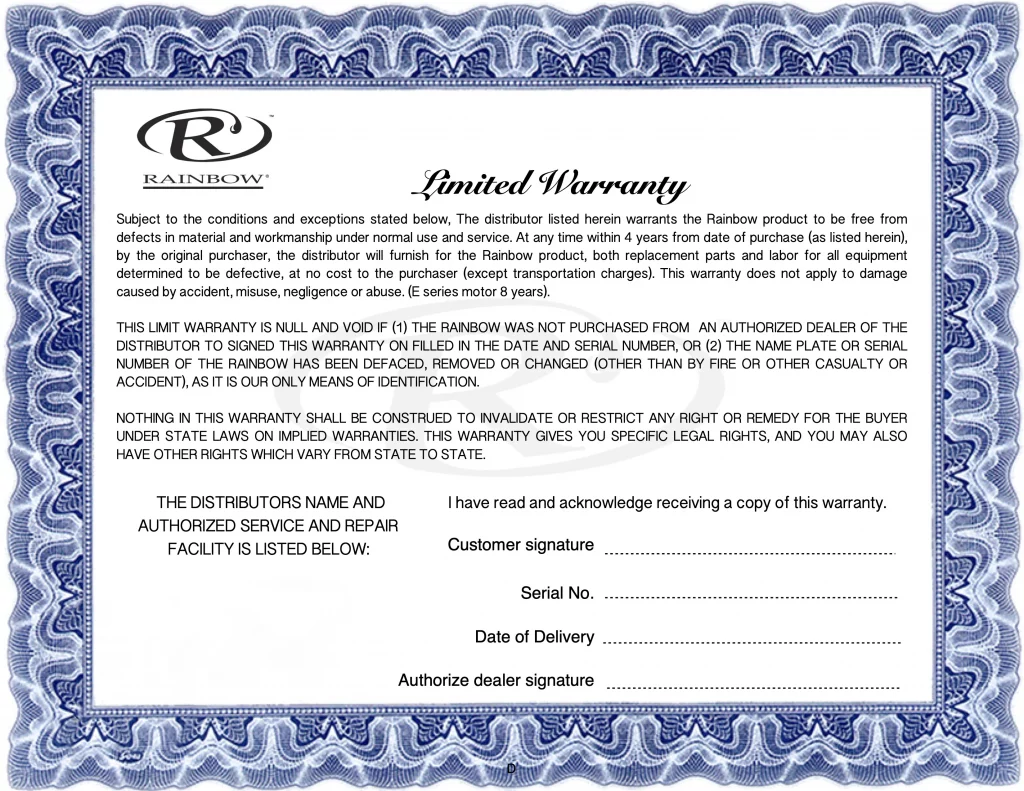 Rexair sells Rainbow exclusively to its Authorized Independent Distributors for resale purposes, specifically through in-home demonstrations to prospective owners-users.
Any other form of sale, including online sales, is strictly prohibited. Products purchased through any other type of sale are not covered by the Authorized warranty.
Rexair, as the manufacturer, has proudly established a heritage of selling superior products through Authorized Distributors for over 75 years. We are committed to providing service and support to Rainbow owners.
Rexair sells the Rainbow Cleaning System solely to experienced Authorized Independent Distributors with expertise in direct in-home sales. These Authorized Distributors take responsibility for the legitimate distribution and servicing of the Rainbow Cleaner directly through their own merchants or indirectly through sub-distributors and their merchants.
Rexair has no agreement or legal relationship with independent resellers who acquire the product directly or indirectly from the Authorized Distributor. Rexair's stated policy is to hold each Authorized Distributor accountable for addressing any complaints from any purchasing member of the public related to the sales or service of any of these independent resellers.
Additionally, Rexair requires each Authorized Distributor to provide prompt and efficient service either through their own service center or through an independent and responsible service center in the communities where they sell Rexair products through sub-distributors and merchants.
Where do I have to take my Rainbow in case of a warranty claim?
Please keep the name and address of the Merchant or Distributor from whom you purchased the Rainbow Cleaner. Contact them for advice on caring for your Rainbow, warranty coverage, service, and the nearest sales service. If you are unable to reach them or feel that you are not receiving appropriate assistance from your Authorized Distributor, do not hesitate to contact Rexair's Customer Service Department for assistance. They will provide you with the name, address, and phone number of the Authorized Distributor in your area. Or you can contact us directly here.
Take advantage of Rainbow's warranty and support
With Rexair's limited warranty and commitment to customer satisfaction, you can enjoy the benefits of your Rainbow Cleaning System with peace of mind. Contact your Authorized Distributor today to ensure the longevity and optimal performance of your Rainbow.
If you don't have access to your Distributor or lost his contact information, you can let us know here and we can help you find one closer to your area.