Where is the Rainbow and Power Nozzle Serial Number?
Knowing where is located your Rainbow serial number is very important for registering and claiming your machine warranty. Some Rainbow dealers will ask you for your Rainbow or power nozzle serials in order to send a part to Rexair for warranty.
Before to buy a Rainbow
Rexair do not allow any distributor to sell new Rainbows over the internet, so it is almost sure that all Rainbows sold throughout any marketplace like Amazon, eBay, etc is not a brand new unit, even if they describe it as a new product.
If you want to verify before to buy a Rainbow if the unit is, in fact, brand new, or if it was sold before, you can ask the seller for the serial number and contact any authorized Rainbow distributor for information related to this particular Rainbow.
Sometimes online re-sellers are not happy to give you this information because they know you will discover that the Rainbow is used.
In the last case, you can use this video to know where the serial number is and ask the seller to send you a close up picture of the area related.
Check the video below for instruction about to find the Rainbow and power nozzle serial number.

What else can I do with my Rainbow serial number?
If you know your Rainbow serial you can contact us for more information about your Rainbow purchase, like the day of purchase, the expiration of your warranty or even the name of the Rainbow representative who sold the Rainbow to you.
Did you loan your Rainbow to somebody and they give you back a different one? If you have any doubt check your serial number.
If you didn't record your serial number before to loan the Rainbow, you can contact us to check if this unit was sold to you.
What does the serial number mean?
The Rainbow serial number has two parts. The number on the top is the actual Manufacture Serial Number of your Rainbow while the 3 numbers on the bottom are the Manufacturing Date.
You can read the Manufacture Date in two parts:
The first number is manufacturing quarter of the year.
Two last number is the Year of the manufacturer.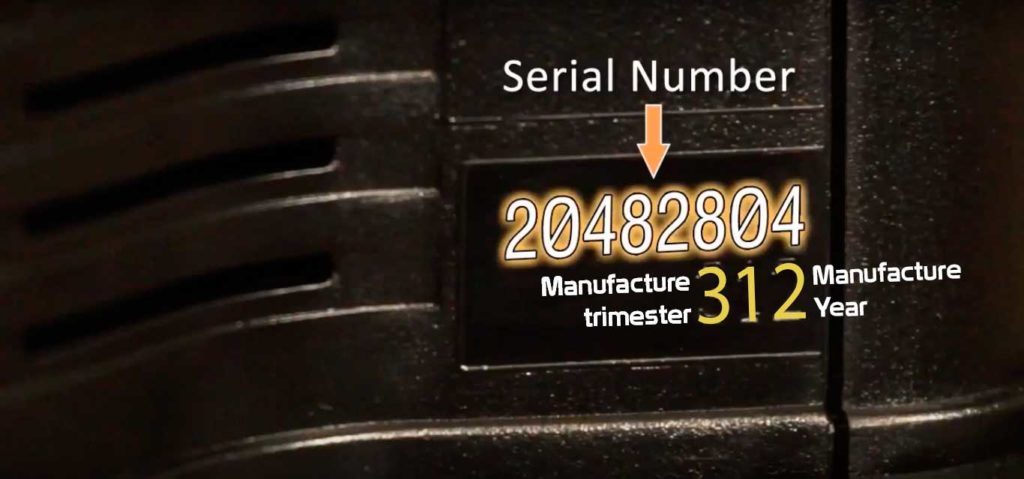 What is my Rainbow Model?
If do you want to know what model is your Rainbow Vacuum Cleaner, please enter the information below.
Provide additional feedback
If you have any additional comment, please use the form below to share your thoughts so everybody can take advance of it, or you can personally contact us.
Please share this post ↓ if you think this could be useful to your friends.