4 Seasons Fragrances Pack contains one scent for each season of the year, no matter what season of the year you are in, you will always have a fragrance for the occasion. Winter, Spring, Sommer and fall.
Save an extra buck when you buy this pack of 4 concentrated fragrances , you will have a different scent for any season.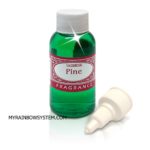 ---
The Favorite Concentrated Fragrances Pack includes:
1 Concentrated Pine oil scent Bottle for Winter
1 Concentrated Rose oil scent Bottle for Spring
1 Concentrated Orange oil scent Bottle for summer
1 Concentrated Spice oil scent Bottle for Autumn
1.6 fluid oz each Bottle
Drops applicator included
Safe to use on Rainbows and Rainmate.
This fragrance is tested by us and is safe to use on Rainbows and Rainmate.
WARNING: KEEP OUT OF REACH OF CHILDREN